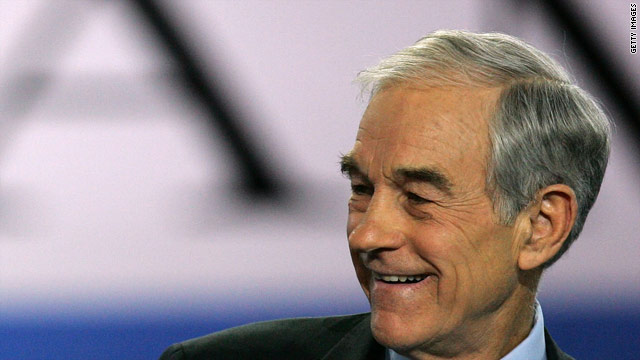 Here are just a few of the news articles on Ron Paul's rousing CPAC speech today. The reports are almost universally favorable and respectful -- quite a change from 2008:
FoxNews.com:
Ron Paul Brings Down the House at CPAC
If anything can be gauged by applause in main ballroom, Ron Paul will once again win the Presidential Straw Poll here at CPAC.
Paul won the contest last year, much to the chagrin of many of the party faithful who attended.
This year Paul was the only potential presidential candidate to directly tackle the tricky subject of Egypt.
CNN Politics:
Paul gets CPAC crowd on their feet
Texas Rep. Ron Paul addressed the Conservative Political Action Conference Friday, repeating the mantra of limited government that has rocketed him to stardom among a certain segment of conservative activists.
Easily garnering the most enthusiastic applause of the day, Paul advocated for a complete governmental retreat in every realm of society.
"We've had way too much bipartisanship for about 60 years," said Paul, in comments that drew one of many standing ovations during the 25-munte speech. "It's the bipartisanship of the welfare system, the warfare system…it all goes through with support from both parties."
RollCall:
Ron Paul Stirs CPAC Crowd
Rep. Ron Paul (R-Texas) got a hero's welcome from the Conservative Political Action Conference on Friday.
Paul — who won last year's presidential straw poll in a landslide that angered mainstream Republicans — has long been a favorite of the conservative activists that come to CPAC, and on Friday he delivered a crowd-pleasing speech.
Entering to thundering applause, Paul started his speech with a call not simply to throw Democrats out of office but to "change our philosophy of what this whole country is all about."
Ron Paul's Full Speech at CPAC 2011: The Brushfires of Freedom Are Burning!